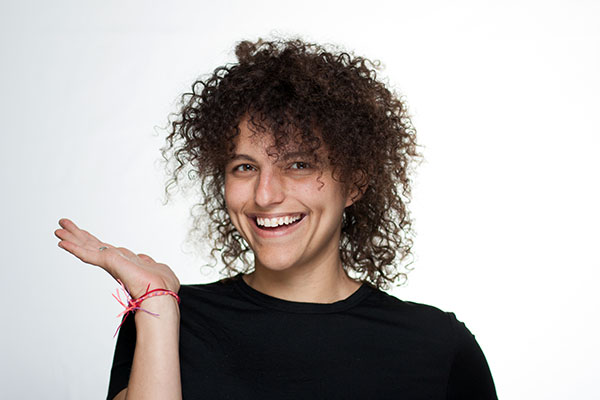 Meet Molly. The peanut butter to our jelly. She's one of the many volunteers that help produce the Portland Film Festival. This year with the support of Comcast, we are highlighting volunteer stories leading up to the 2017 edition from October 30th to November 5th.
If you'd like to volunteer, email or meet us in person at one of our upcoming events. Find out more at our Facebook page.
What's your first name and where are you from?
I'm Molly and I'm from Florida originally.
How did you hear about the festival?
I moved to Portland and googled "Portland Film"!
Why do you volunteer?
I love volunteering for PDXFF because of the people I get to work with, both behind the scenes at the festival and the filmmakers. It feels like being part of a community, and like a special opportunity to lift up exciting work and inspiring artists to share with the Portland community at large.
If you volunteered with the festival in the past, what was your favorite experience?
I love getting to work with such amazing people. But aside from that, it has been really educational to see the inner workings of a film festival, and that has included ample opportunities to learn about every department, not just my own.
What are you looking forward to at this year's festival?
The day the filmmakers arrive for the festival – I love that anticipatory magic in the air.
Are you a filmmaker? If so, what are you working on now?
I have worked on some films in different capacities, but I wouldn't call myself a filmmaker. Sending love to all of those detail-oriented, patient and dedicated enough to make films! You make the world better to live in.
What's your favorite movie and why?
So hard to choose. Trainspotting, Harold and Maude, Withnail & I to name a few. I love them because they are dark, funny, and deeply human.
What's your least favorite movie and why?
My least favorite movie is probably Hostel. You know why.
What's your guilty pleasure or your comfort movie?
Movies ARE comfort. How do I narrow this down…A League of Their Own, Newsies, The Hangover, Forgetting Sarah Marshall…Just to name a few…
Where do you read or find out about movies?
Sometimes I feel really out of the loop…do you have any suggestions?
Where do you like to watch movies?
At home in absolute comfort.
What's your favorite theater in Portland?
Portland has so many wonderful little movie theaters, Laurelhurst, Cinema 21…I still haven't been to all of them yet!
If you could cast your dream movie, what genre, cast and who would direct?
A dark comedy with some combination of Leonardo DiCaprio, Donald Glover, Brie Larson, Viola Davis and Tom Hardy.
If you could bring three things to a deserted island what would you bring?
Harry Potter books (THAT'S ONE THING), peanut butter m&ms and Different Class by Pulp. There's shelter and other food on this deserted island…right?
What kind of sandwich would you be?
PB&J. Always and forever.
Stay tuned for more volunteer profiles. Comcast presents the 2017 Portland Film Festival from October 30th to November 5th. Buy passes online at portlandfilm.org.
And if you'd like to join the volunteer team,
please email us
 with your interests. Or meet us in person at one of our upcoming events. Check out our
Facebook page
for more information.
Comments
comments